MYKONOS CITY (CHORA)
City (Chora) of Mykonos is the capital of the most cosmopolitan island of Cyclades. A walk in narrow alleys of her settlement, impresses each visitor... more ...
User reviews

During a cruise July 2004, we were able to spend a day on Mykonos. Fantastic island with excellent shopping and dining facilities. The residents were very friendly and helpful...
Mykonos reviews

Are you familiar with Mykonos? Tell others your opinion. Write a review.
DELOS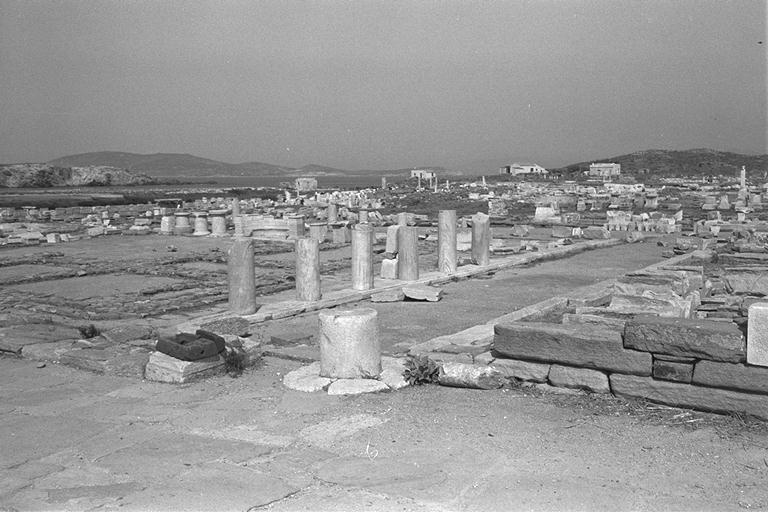 Delos was the most important Panhellenic sanctuary, and, according to mythology, the birth-place of Apollo and Artemis. The first signs of hab... more ...
Mykonos. The most famous island in Greece and, with no doubt the most cosmopolitan in Cyclades islands. Its name is connected with entertainment and endless parties. But Mykonos does not offer only that. It is the island of surprises. It has unique beauties, other known and others still unexplored...

The island of winds, as locals call it, is almost in the center of Cyclades islands and between Tinos and Naxos. It's the closest island to Delos. Boats from the port of Mykonos make trips to the sacred island of antiquity.

Mykonos is one of the first islands in Greece that made tourist worth of its natural pores, sun and sea. It started to spread its rumor in the middle 1950's when the first visitors started to arrive in the island.

In the middle 60's Mykonos was already the favourite travel destination of celebrities from the international jet set. During the 70's, 80's, 90's Mykonos became fashionable for every artist, politician or businessman of that time. Important personalities like Aristoteles Onasis, Maria Kallas, Tzaki Kennedy - Onasi, Brigit Bardo, Zan Moro and Grace Kelly are some of the celebrities that visited this Aegean island in regular bases.

Mykonos is no longer a fashionable place, but a stable value. Many Greek celebrities have chosen to build their rural houses in the island in order to make strong connections with Mykonos.

But what, really makes Mykonos so famous? The enchanting capital with authentic beauties, traditional architecture and plain charm, attracts all visitors.

Alefkandra or Litle Venice, is a unique neighborhood in Greece. Waves splash windows and create a unique landscape. The neighborhood of Kastro, the church of Panagia Paraportiani, the Archaeological Museum, the picturesque Windmills and shopping in Matogianni, the famous street with fashion boutiques, are some of the hot spots of Mykonos island.

Mykonos' beaches are famous all around the world, offering all sorts of entertainment. You can combine swimming, sports and leisure. Super Paradise and Paradise are the top and most famous beach in Cyclades islands. Elia beach with an endless golden shore and crystal clear waters is ideal for swimming. If you are a lover of sports, visit Platys Gialos, with all the appropriate infrastructures for water sports.

The beach of Agios Ioannis gained international fame, when the Hollywood movie Shirley Valentine was shot there.
All around the island you will find short and extended shores, organized beaches and virgin coasts, for every taste.
Kalafatis, Ftelia, Ornos, Psarou, Tourlos, Houlakia, Agios Stefanos, Ano Mera and Megali Ammos, are some of them.

Mykonos offers a pleasant accommodation in the luxurious hotel complexes and villas and in the rooms to let all around the island. Prices are affordable for every traveler.

The island has regular connection with the ports of Piraeus and Rafina. There is an airport connecting Mykonos with Athens, Thessaloniki and other cities in Greece. There are charter flights from all around the world during summer period.

Visit Mykonos and live the holidays of your dreams...
User reviews

Delos is a small uninhabited island at the centre of the Cyclades known for it's important archaeological sites. It is said to be the birthplaces of Zeus' children, Apollo and Artemis. ...
Delos reviews

Have you been to Delos? Tell others what you think. Write a review.