MYKONOS
HOTELS
RESTAURANTS
CAFES
CAR RENTALS
NIGHTLIFE
TRAVEL AGENCIES
ART GALLERIES
JEWELLERY
BEACH BARS
CAMPINGS
SHOPPING
REAL ESTATE
VILLAS
STUDIOS
TAVERNS
YACHTING
BEAUTY SALLON
DEPARTMENT STORE
DVD CLUB
MASSAGE
YIANNAKI HOTEL - REVIEWS
Carole & Graham Willans

US
Holiday
Date : 6- -0 2006 Time : 18 : 2
Rating : Excellent
Arrived home today after 2 wonderful weeks at your hotel. Your staff are very friendly and helpful and will definately recommend your hotel to our friends. Kind regards to all and thanks again.


Lisa Winstanley

Canada
The best hotel..ever
Date : 6- -0 2006 Time : 09 : 0
Rating : Excellent
My sister's and I stayed at the Yiannaki Hotel for 3 nights. Our first night we arrived late, after a long, long day of travel. We were tired and hungry. Maria recieved us warmly and made us feel extremely comfortable. The lobby was modern, clean and important to one of my sister's they had internet access - for free! We went up to our room and it was clean, and nicely set up. Food is really important to us (probably to a lot of people ;) We needed food right away, so we decided to eat at the hotel. It was one of the best decisions we made for food on Mykonos! The restaurant has a great atmosphere, you have a great outdoor eating experience. Being new to Greece, we were unsure what to order. Yianni, visited our table and immediately provided excellent guidance and charming company for our first meal. The food was amazing - home grown olives in the salad! Being a veteran traveller, where I have been to many resorts, hotels, hostels, bed and breakfasts... I can honestly and with no hesitation say that the Yiannaki hotel is unlike any other. The Yiannaki hotel is not just a fantastic place to stay - it is a fantastic experience! It offers friendly knowledgeable service, they go "above and beyond" to make sure you are happy and relaxed, the food is so good words cannot describe it and the rooms are clean and always serviced by friendly trustworthy maids.

I would without reservation tell anyone - "Make a reservation!!"


A Travel to Mykonos User

Hasselt - Belgium
Where you come as a guest and leave as a friend!
Date : 8- -0 2005 Time : 05 : 0
Rating : Excellent
Several times I did stay at this fantastic hotel. When I came there the first time the hotel was a C - class hotel. But allready then it deserved more then a C. Now they changed the hotel to a beautifull A - Class hotel. You will find all the luxery you deserve in Yiannaki hotel. The hotel is situated very close to the beach and there is a very frequent bus service to Mykonos town. They have a big swimming pool and a friendly taverna. The people who work at the reception desk and the restaurant are very helpfull and friendly, there is also a good cleaning service. The owner, mister Dactilides and his son Yannis take care of everything you need. When you go to Mykonos, I really can advice you to visite this mykonian beauty.


A Travel to Mykonos User

Toronto, Canada
Great deal
Date : 8- -0 2005 Time : 05 : 0
Rating : Excellent
Nice place, really clean, great service, family run, close to Ornos Beach (5 minute walk), clsoe to bus stop to town, 2 minute walk, good food at dinner and lunch...great little ethnic Greek hotel. For the money, you can't bet it..


A Travel to Mykonos User

Toronto Ontario
Great Hotel near Ormos Beach
Date : 8- -0 2005 Time : 05 : 0
Rating : Excellent
We have just returned from 4 nights at The Yiannaki Hotel. We were worried, because we could not find any information on the hotel - but we loved it. It is reasonably priced, the cleanest hotel I have ever stayed in. SPOTTLESS! Great owners and staff, excellent food and a lovely swimming pool. It is a 5 minute walk to Ormos Beach, right on the bus route, has a great bakery close by. The rooms are being renovated, but the older ones are fine. Lovely balconies on all rooms. We had a fridge and lots of closet space. The only negative thing - were the beds - twins pushed together and not very comfortable, they could invest in new pillows! I would stay there again - and would recommend it for the value, location and wonderful food right at the hotel.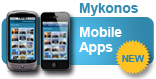 MAP
INFORMATION
DELOS
VILLAGES
BEACHES
WORTH SEEING
VIDEO GALLERY
PHOTO GALLERY
360 PANORAMAS
TOP 10
ANIMALS
DREAM RACE
MOVIES
E-CARDS
MAILING LIST
NEWS
SEARCH
ABOUT US
LINKS