MYKONOS
HOTELS
RESTAURANTS
CAFES
CAR RENTALS
NIGHTLIFE
TRAVEL AGENCIES
ART GALLERIES
JEWELLERY
BEACH BARS
CAMPINGS
SHOPPING
REAL ESTATE
VILLAS
STUDIOS
TAVERNS
YACHTING
BEAUTY SALLON
DEPARTMENT STORE
DVD CLUB
MASSAGE
PETASOS BEACH RESORT AND SPA - REVIEWS
A Travel to Mykonos User

Redding, CA
A Wonderful Oasis
Date : 8- -0 2005 Time : 05 : 0
Rating : Excellent
We stayed at the Petasos Beach Hotel from July 10-12 and absolutely loved it! We are two single women in our early forties and were supposed to arrive on July 9, but due to a missed connection did not arrive until the morning of July 10, very hot, tired, and hungry. When we arrived at the beautiful Petasos Beach Hotel it appeared as an oasis -- very friendly and helpful staff to great us, exceptionally clean, free internet, and a gorgeous room with lots of room for luggage, a balcony with table and chairs overlooking the pool and sea, and even a big tub in the center of the room. (Granted, we weren't there on a honeymoon so we used the tub for storing our wet swimsuits, but it was lovely nonetheless!) We arrived after the buffet breakfast had closed, but the hotel staff, seeing that we were tired and hungry, arranged for us to partake in the buffet. The breakfast buffet is included in the price and was much better than any other I had in Greece (Santorini and Athens) and had a lovely view. Even though we were in single beds, we did not find them overly small or uncomfortable. Great location for the main beach or taking the bus to town. We spent our first day at the pool and main beach, and then the second day "beach hopped" at every beach via the bus. We have traveled all over the world and have stayed at 5-start resorts and some places that were dumps that were advertised as first rate. This place is great by either American or European standards. We highly recommend it.


A Travel to Mykonos User

Los Angeles, CA
The Absolute Best
Date : 8- -0 2005 Time : 05 : 0
Rating : Excellent
I would definitely recommend this hotel for its location, outstanding service, food, and hospitality. We went with 3 other families with kids and had the absolute best time! First, the bell boy carried 4 of our heaviest suitcases at the same time all the way up to our second-floor room. We were amazed and then became even more amazed when he wouldn't even accept a tiny tip. The hospitalitiy at this hotel is incomparable. Also, the breakfasts were breathtaking. The buffet breakfasts were set outside where everyone had an amazing view right over the beach. Their pool (saltwater) was delightful. The rooms were comfortable and the location was just right in front of the beach. Another hotel (The Royal Mikonian) was also very nice but set ontop of a hill overlooking the beach, making the access much more difficult. Hotel Petasos was a wonderful hotel and its value is definitely worth it!


A Travel to Mykonos User

Sandy, Utah USA
Best hotel experience in Greece
Date : 5- -0 2005 Time : 01 : 0
Rating : Excellent
There is absolutely nothing to dislike about this Hotel.......SETTING is ideal, rooms are CLEAN, as is entire resort........RESTAURANTS are plentiful in area...the MANAGER (Yanni) is very accommodating. We have stayed at the Petasos Beach hotel twice, and would go back again..in a minute. Spectacular beach scenery, fantastic pool setting (although some may prefer fresh water to salt water in a pool). Away from the noise and tourists of downtown (a short inexpensive bus ride of about 10 minutes), the Petasos Beach is a place of peace and beauty, where unwinding and relaxation may be found. Our beachfront room was spacious and spotless, with a balcony perfect for watching the afternoon sun go down. We have stayed on most Greek Isles, and rate the Petasos # 1 among the hotels and resorts visited. Best of all, it is very affordable, especially in late September and early October, when less crowded, but still nice weather. Suggest renting a jeep (Yanni will take care of details) and driving around the island. We were told about a lake only the locals seem to know about, where we had a picnic lunch and afternoon of sunbathing. Oh well, enough pleasant daydreaming about our visit to Mykonos, it is time to get back to our real world. Hope this helps you decide where to stay in Mykonos.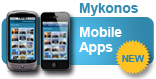 MAP
INFORMATION
DELOS
VILLAGES
BEACHES
WORTH SEEING
VIDEO GALLERY
PHOTO GALLERY
360 PANORAMAS
TOP 10
ANIMALS
DREAM RACE
MOVIES
E-CARDS
MAILING LIST
NEWS
SEARCH
ABOUT US
LINKS